Do you have a picture in your mind when you think of Greece? Does it include white houses, churches with blue roofs and a terrific view over the ocean? If yes, than welcome to the club ;) That's exactly what we thought about when we planned our last trip. First thing to do... where exactly is this dream destination. Greece is a big country and has so many beautiful places to offer, but if you are looking for this one view in particular, you have to go to Santorini. It is a place like no other! Also check out our article how to enjoy Santorini on a budget.
Many people just land on the habour with their cruise ship and have one afternoon to soak in the feeling of this island. But there is so much to discover and you don't want to share everything with the hundreds of people from your ship. So take some days and stay here, to discover more than the crowded main spots.
We stayed in Santorini for one week and enjoyed every day.. there is enough to do there. We compiled you some of the best activities to do on this beautiful pearl in the Mediterranean sea....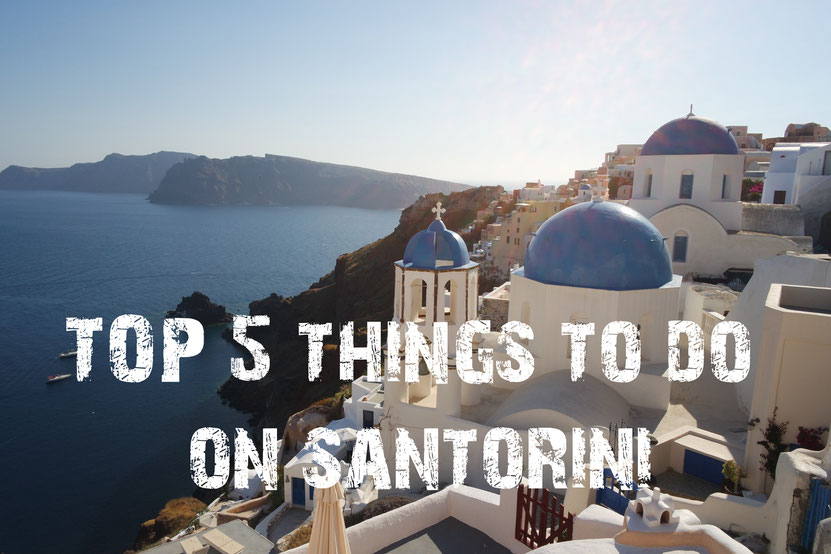 1.Watch the sunset in Oia
First of all, the classical thing to do - watching the sunset in Oia. For sure, you are not the only one with that idea. When we were there in May, it was so crowded the people pretty much got stuck in the small walkways.. we felt like in a crazy traffic jam and it wasn't even high season. Anyhow, the sunset is stunning, with the red ball dropping into the ocean and turning the sky into a red and purple lightshow. But, be early, you can't enjoy this romantic setting squeezed between a bulk of other people! We found ourselves a great spot more on the north-western end of the village, where two windmills are. We took some of our most incredible pictures from this trip at that spot. You can sit on a little rocky white-painted wall and watch the specacle. When the sun is gone.. don't hurry, everyone tries now to get back to the hotel/bus/restaurant. We ended up in the jam... big mistake... but maybe you find a secret little way back :)
2. Eat, eat, eat
One of our favorite activities :D We just love Greek food! Probably with every meal we ordered a Greek salad.. just so delicious! And even though some restaurants look like a tourist trap from the outside, we never had bad food. Actually, the best restaurant we ate at, was in our first night in Fira. I can't remember the name right now, but I try to google it for you. (edit: it is probably Volcano Blue restaurant) Prices are mostly the same on the whole island.. it is not cheap for sure, but I guess you know that. We always spent like 30-40 Euro for a dinner for two with wine and extra salad.
Greek salad all day every day :D
If you are on a budget, you can find a lot fast food shops that offer Pita. This is very similar to Turkish kebap but the Greek version with Pita bread. Very yummy! We had the best Pita ever on the main square in Fira center, the place with the swings instead of chairs. You can't miss it if you walk through Fira. Something the Greek people are also really good at is frozen yoghurt, you can guess, they know how to make yoghurt ;)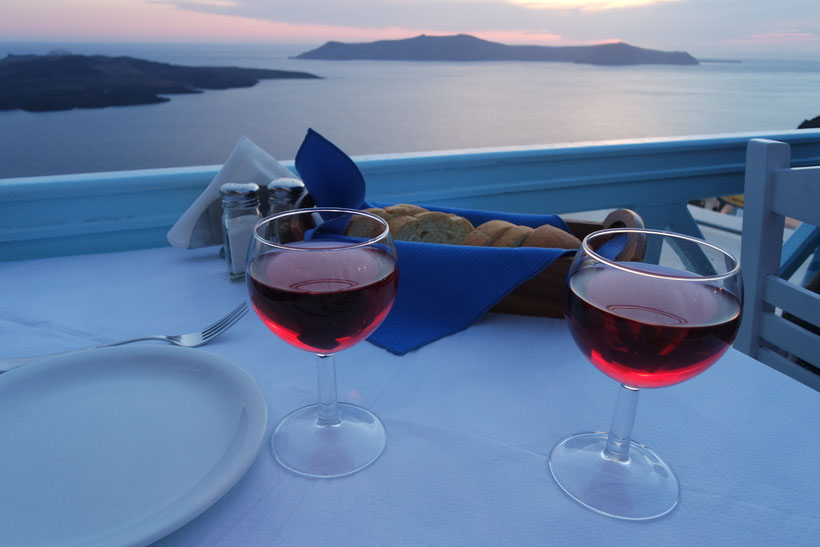 3. Do a boat trip to the volcano
 Also pretty popular but totally worth it, is the boat trip to the volcano with a sailing boat. You get picked up at your hotel in the morning and drive to the little harbor. The boat itself is already kind of cool, an wooden sailing boat (even if it is not actually sailing) and you can chose a nice spot on deck and enjoy the sun. 
Don't forget to bring enough sun screen and water!
The first stop is the volcano that created Santorini. They say it erupted maaannny years ago and has sunken afterwards, leading to circular shape of the island and it's amazing cliffs. The tour guide can give you more details information on how that happened, if you are interested ;) However, apart from the story, the rocky island is not the most interesting. BUT, after you jump on the boat again, they bring you to the hot springs! They are not how you imagine them, the are in the ocean, really close to the volcano island and you can take a swim. The water has a red color and can stain your swimsuit, so be aware. Anyway, the change in water temperature is so fascinating to experience. 
Finally, we left the volcano and sailed to the second biggest island of Santorini, it is rarely populated but offers some nice lunch restaurant with fresh sea food barbecue! After stuffing our tummy, the tour ends at the habour of Oia. So you can experience the sunset and all the famous sights. Later, a bus will bring you back to your hotel.
4. Walk through Imerovigli
 Everyone knows Oia and it's famous spots and of course you wanna go there and take a photo. But you have to wait until you get a chance for your photo and in the end there will always be a Japanese tourist somewhere in your picture (of course, Japanese are really nice and maybe take a picture of you because you lack a selfie stick). BUT, there is another place for incredible views, scenic shots and luxury white painted houses pictures. Take a ride to Imerovigli, just north of Fira and walk around the small ways between the tiny luxury hotels on the cliff. Almost nobody else will be there and you can soak in the setting and take you time to get the perfect picture. It also offers its own blue roofed church with the view over the ocean. 
Send us a pic if anyone ever lies in that hammock!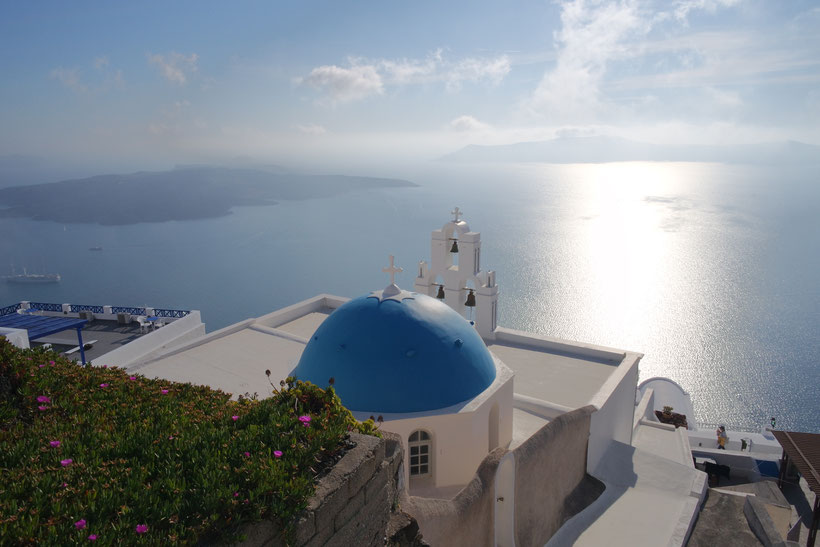 5. Rent a quad and drive to the lighthouse
One of our absolute favorite spots on the whole islands was the lighthouse. You can't get there without your own ride, so rent out a quad (what we did) or a cabrio or maybe a bike if you are sporty and drive to the southern point of the island! It is really worth it, the view of the ocean is amazing and it is an perfect spot to take some stunning photos. This is where we took our most favourite picture of us.. you see it below, we on the rock enjoying the ocean. The thing that is so great about this spot, is that only a handful of tourists find their way there and you don't stand in line to take a great shot (like in many other places on that island). Just enjoy it! And if you are already driving around in the southern part, don't miss out to shop some wine or olive oil in the little shops by the road. So much more authentic than the expensive tourist shops in Fira or Oia..
And one more nice spot to go - where you will probably be the only one - is the hill with the windmills. They are old and ruins but perfectly positioned in a line along a hillside, but it is not so easy to find the way.. take a turn to the right on the street to Perissa as soon as you spot the windmills! It is a tiny road but leads along the mills. Anyway, driving around the island of Santorini is a lot of fun! We really enjoyed it, even though we got caught in heavy rain in the end and arrived soaked in the hotel :D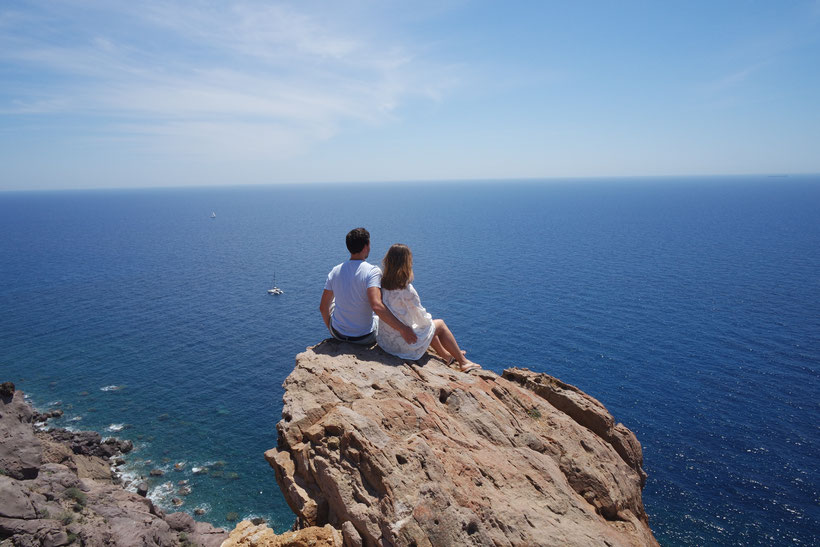 ---
Things you can skip:
Some places you can find in every guide book but we found them rather disappointing. One is the red beach, okay there are not so many beaches in Santorini, but this is nothing special... some red stones, that's it. Not very nice to lie down or swim, but if your hotel misses a swimming pool, you can go, but the trip to get there is mostly too much effort.
We had a whole week on Santorini, so we tried out pretty much every activity that was offered. One day we hiked on the only mountain the island offers.. was okay, the weather was not perfect anyway. But if you are short of time, this is not a must-do.
  Perissa, the village on the southern side of the island is the place that offers cheap accommodation. We stayed there for 3 nights to save some money, but that it. We didn't even went swimming even though it is directly on the beach. But Santorini is not famous for its beaches.. If you don't stay there due to your budget, don't waste your time visiting.