Your dreaming big about greek island travels and white painted houses? But your pocket is small? Than we have some tips for you how to enjoy Santorini on a budget. Of course, this island is not cheap and you won't get prices like in Thailand, but it is possible to stay and eat on a reasonable budget. When you are sure to go, also read our article about the Top 5 thing to do on Santorini!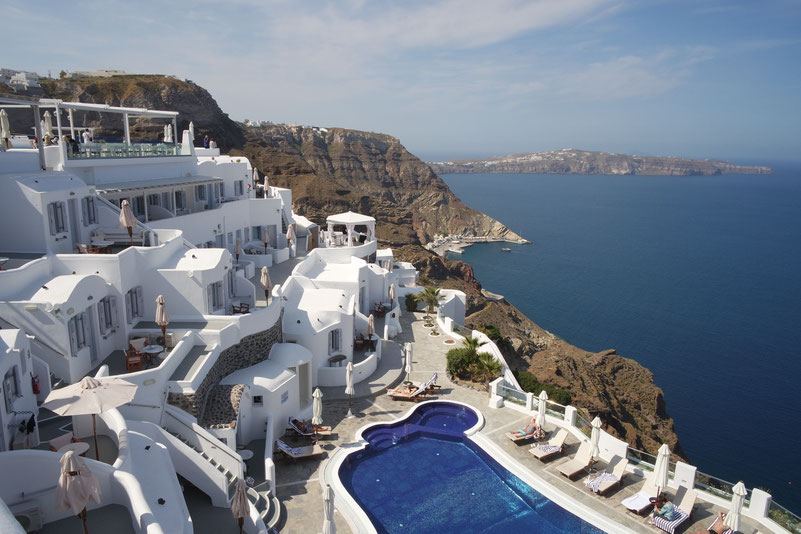 Travel in low-season to save money: May, September or October
The number 1 tip to explore Santorini the cheapest probably is not to go in the high season! Not only that the prices are the highest, but also the amount of tourist can get insane and you might not be able to enjoy it to the fullest if you always squeeze with many other tourists. June and July are really popular, but we went in May and it was as lovely and sunny as anytime else. It might not be as hot, but I think 24 degrees are just comfortable. Another good time to visit would be September or October, at this time it is still warm and nice in Greece when northern Europe already starts to get cold.
Accommodation
You can pay insane prices on this island for incredible hotel rooms with private pools on the cliff, but I guess most of us don't have the money for it. Anyway, you can get your piece of cake of these amazing views anyway. If you are on a long-term trip and can't spent any extra money while you are on Santorini, then Perissa is the place to stay for you. This village is located on the southern end of the island with a black sand beach. You won't experience the cliff with the awesome views there, but the accommodations are the cheapest on the island. You can sleep in a double room for as low as 30 Euro per night! We checked out two different places and found this price by just walking in, but don't try that in high season. 
If you saved up a little more money and are happy to spent it on the trip to this awesome place, we got a secret tip for you how to enjoy luxury on a medium budget. After a long time of comparing prices and recommendations on the different hotel platforms , we discovered a reasonable priced hotel, that is a sister of a 5-star resort in the cliff and is located just on the opposite site of the street. And the best thing about it: You have full access to the facilities of the luxury hotel, including pool and the most delicious breakfast with the terrific view!!! We spent two nights there for only 60 Euro per night and it was amazing! Check out De Sol Hotel a little south of Fira (this is NO paid advertising, we just really loved it there!)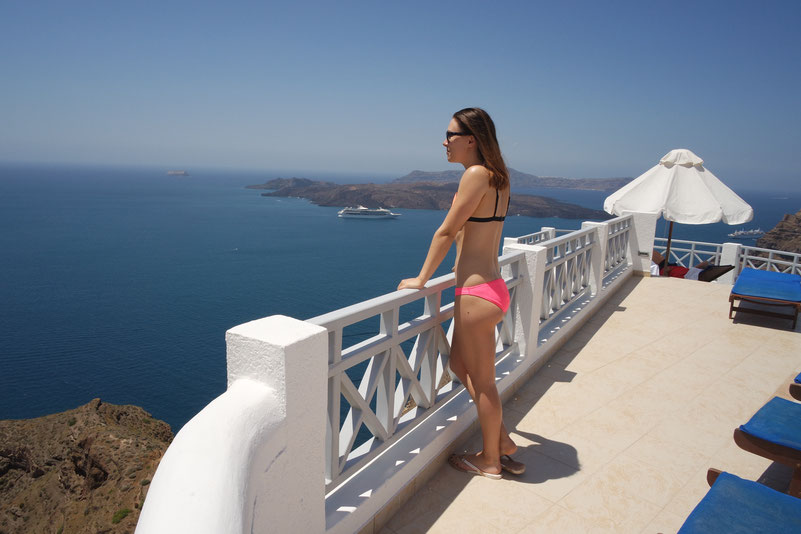 Food
 We would say that food prices are pretty similar to other European countries, but more expensive than the rest of Greece! On a budget you can shop at the Lidl store on the island (also great for cheap sunscreen) and try some of the many fast food and take away shops. You can find the best pita kebab we've ever had on the main square in Fira! The frozen yogurt is also worth a visit... Generally, it is definitly possible to eat cheap on Santorini.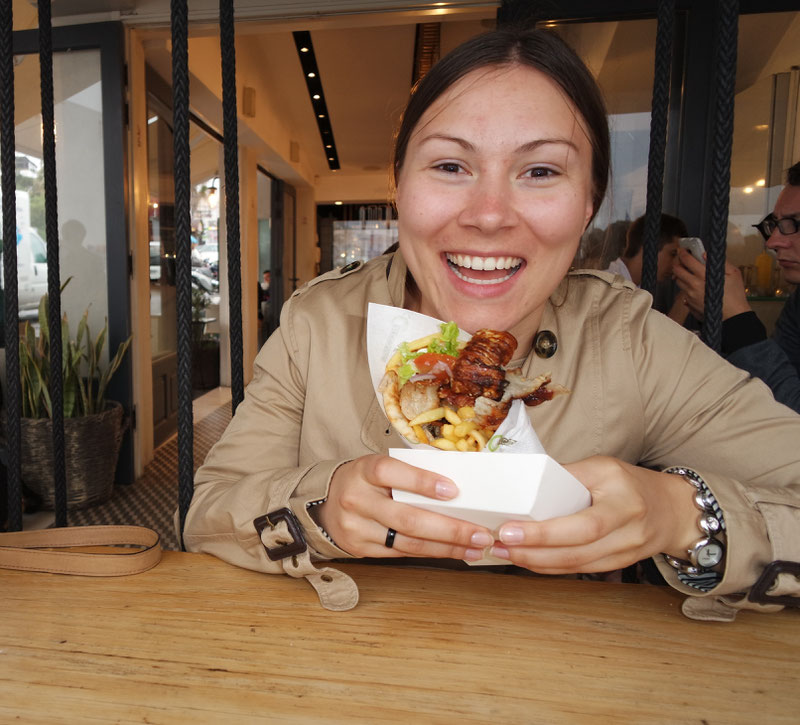 Transport
Since the island is not very big, Transport  is a minor concern. If your hotel/hostel is a little out of town, maybe it offers a shuttle service to Fira (De Sol does) or you can rent a scooter for the time on the island. To get from town to town, there is a bus service connecting all major villages for a small fee. This is pretty convenient if you are a backpacker, BUT the bus timetable is not very accurate and you never really know when it is coming... and don't forget to wave  it down to stop!
Airport connection: There is a bus from the airport to Fira but it's not running all day. When we arrived, the last bus was already gone so there was no other chance than a taxi. As we weren't the only ones, we tried to team up with some other travelers to share a cap. Anyhow, the taxi drivers try to avoid that, so they will only take you if everyone is getting off at the same spot and you pretend to be one group. Kind of mean, but what should we do!?
Our tip: Rent a quad!
Be careful with extremely cheap prices in Fira, better go for one with good insurance. Also don't pick the smallest one, you need some power for the hills of the island ;)