Packing is always a challenge, doesn't matter how often you have done it before! I (Laura) especially struggle with a few things like picking shoes or a bag that matches everything. After a while I developed some guidelines based on earlier travel experience that help me pack. Of course, I wanna share this with you, so I hope the boys don't mind, because I wrote this article mostly for the pretty gender ;) These are my few tips I stick to when packing for a long term trip and still try to be a little bit stylish!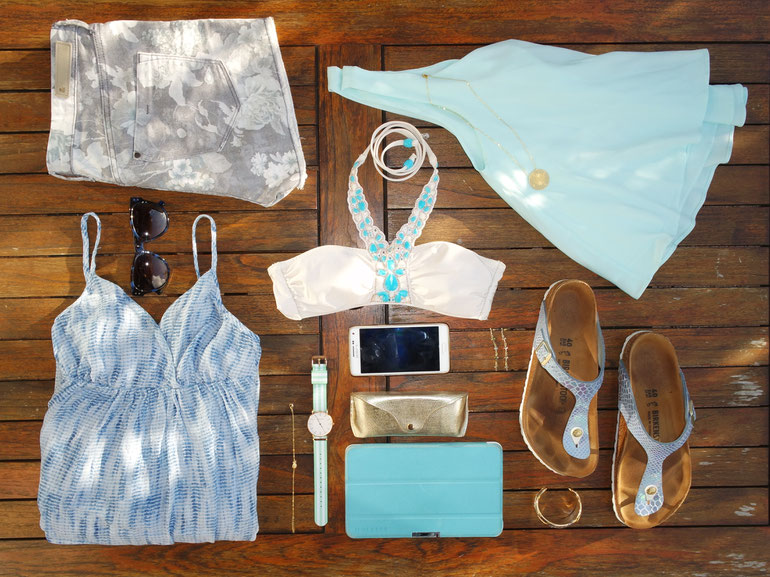 1. Pick two color families
For sure, my number one tip is to pick out your favourite colors for clothing and try to stick to them. What is annoying me the most, is when you are traveling and have some super nice pieces but they don't really match. So for our around-the-world trip, I decided I go with blues and pink/berry colors! And that works out pretty well, actually everything I shopped on the trip so far even fits into that. Of course, these are my favourite colors already, so it is not a surprise I pick those over and over again. So choose what you love to wear and pick two colors which also match very well and bring pieces of all shades of these colors. Even my rain jacket has a berry color!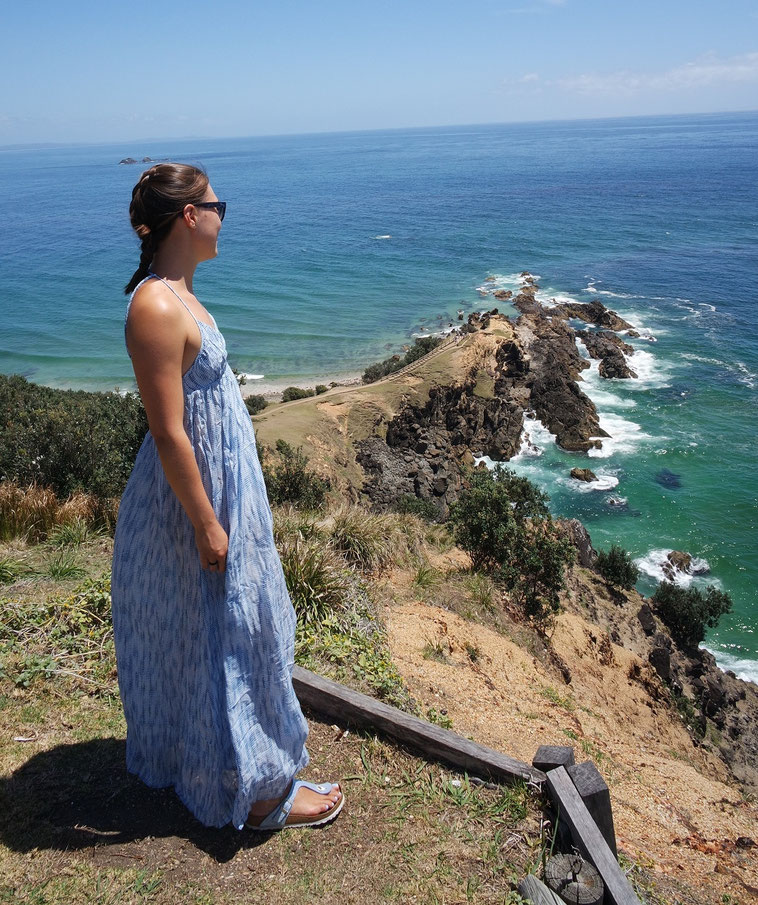 2. Add the essential basics
No bag is properly packed without the essential to combine with everything. So bring this white T-shirt, black tanktop and blue jeans shorts, you will be happy to mix and match it with all your other stuff. And think about stuff you might wanna wear underneath when its gets cold... a pair of leggins is always a great idea. I'm normally not the leggins type of girls who wears them as pants out on the street, but they are perfect for hanging out in your campervan or dorm!
3. Don't forget a pretty dress
It doesn't matter what type of trip you go on, let it be a backpacking trip to Nepal or a Safari in Kenya. Always bring one pretty dress you can go partying in! It doesn't have to be the glitter strapless New Year's party gown, but something you feel comfortable in when going in a bar/club with the new friends you met. I picked my white lace dress, but unfortunatly forgot to bring a dress for underneath... stupid mistake.. the pants have to do the job then. So think about what to bring and what you need for it!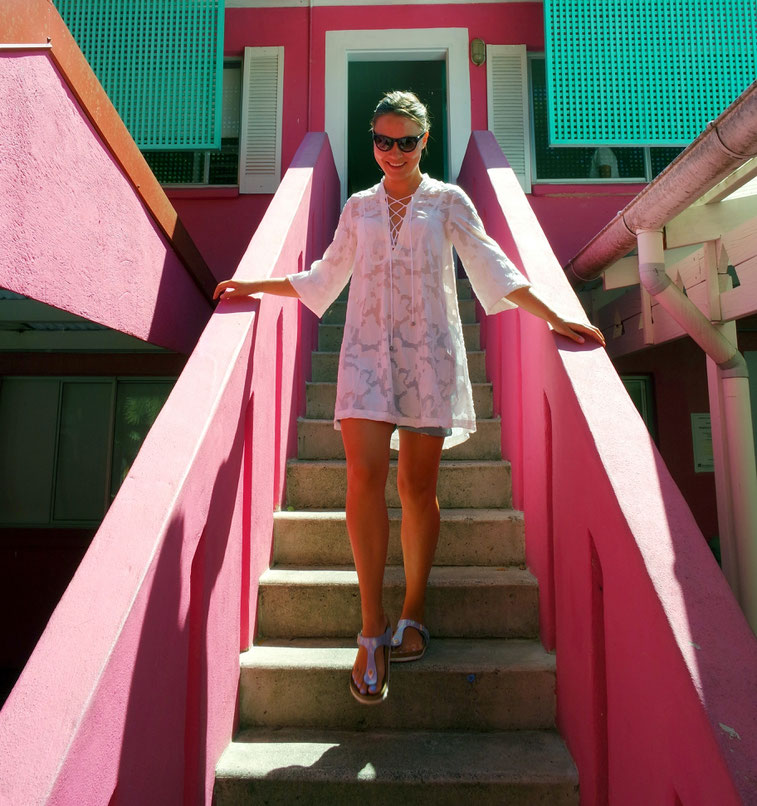 4. Choose your shoes wisely
I always feel like this is one of the most difficult choices to make when packing your bag. How many shoes will fit in? And especially which shoes do I need and which ones do I want to bring? In my opinion, less than 3 is difficult… okay maybe I could do two pairs, sneakers (good ones also for hiking) and pretty sandals! You will need the pretty sandals for your one party dress, because nothing destroys an outfit more than shoes that doesn't match. Don't bring an extra pair just for this outfit, chose a comfortable pair you can were any day but they also look a bit nicer than your flipflops. My choice fell on the special design of Birkenstock in shinny light blue snake leather design. They fit all my blue outfits and also my white pretty dress, but that's not all, they are also super comfortable on a sightseeing day in the city. An extra pair of flipflops is always useful for shared bathrooms and the beach.
So I would recommend to bring 3-4 pairs of shoes (see mine below.... get the colors? ;)
Sporty hiking shoes (I love my Adidas Terrex)
Pretty sandals (which go with your pretty dress! I love my shiny snake Birkenstocks!)
FlipFlops (for showers and beach)
Optional: One pair you wouldn't want to miss (I chose Espandrilles.. don't bring heels unless you can walk in them all day! they need too much space)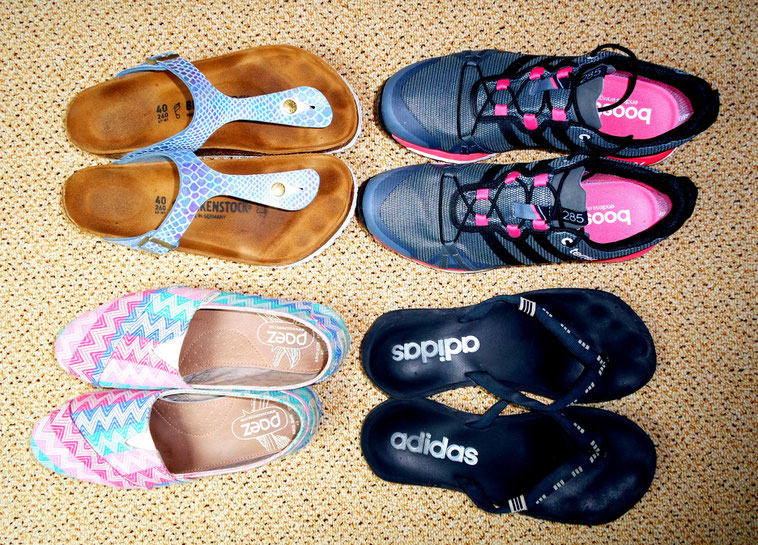 5. The perfect bag and accessories
You can probably bring only one bag and maybe a little purse, so it should go with everything. A backpack and one carry-on, that's mostly it. So what about a small backpack and a cross body bag? Bring both? Guess you have to decide what you really need. I chose to bring one medium sized bag that can also be carried as a backpack, and surprise, it even has a raspberry color :D
We all know what the right accessories can do to an outfit, but the challenge while traveling is to have the right selection of it. Bring one scarf fitting into your chosen color families, you can always need it even in hot countries. Also pack one or two necklaces or earrings matching all your clothes.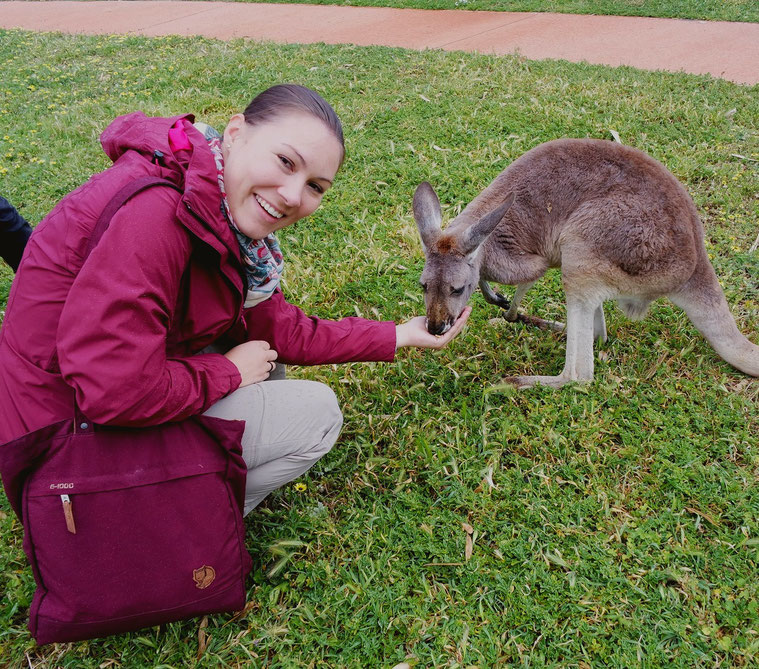 Would love to hear your thoughts and tips in the comments - Laura